The Archdiocese of Lingayen-Dagupan is a Roman Catholic Archdiocese in the Philippines that comprises the capital of the province, 2 cities, and 15 municipalities in the central part of Pangasinan. Its suffragans are the Diocese of Alaminos, Diocese of Cabanatuan, Diocese of San Fernando (La Union), Diocese of San Jose (Nueva Ecija) and Diocese of Urdaneta.
On May 19, 1928, Lingayen in Pangasinan was created a diocese through the Apostolic Constitution, Continua omnium, issued by Pope Pius XI. Since then, the Episcopal See of the diocese was in Lingayen. With Lingayen's destruction caused by World War II, the diocese's Episcopal See was moved to Dagupan comprising the diocese into Lingayen-Dagupan. The diocese was reconstituted by Pope Paul VI into an archdiocese on February 16, 1963.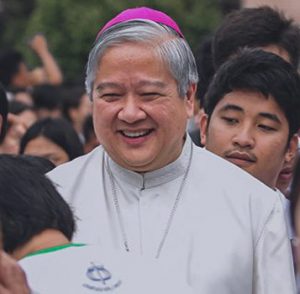 At present, the archdiocese's archbishop is Most Reverend Socrates B. Villegas, DD, a native from City of Manila, born on September 28, 1960. He was ordained priest in Manila on October 5, 1985. Prior to becoming the archbishop of Lingayen-Dagupan, he was ordained bishop on August 31, 2001, and became an Auxiliary Bishop of Manila. He was the rector of Mary Queen of Peace, Our Lady of Edsa Shrine from December 8, 1989 to May 2004. He was appointed and installed as the Bishop of Balanga in Bataan in 2004. And on September 8, 2009, he was promoted to Archbishop of Lingayen-Dagupan.
List of the Past Bishops/Archbishops of the Archdiocese of Lingayen-Dagupan:
Bishop Cesar Maria Guerrero
May 24, 1929 – December 16, 1937
Archbishop Mariano Madriaga
May 24, 1938 – February 7, 1973
Archbishop Federico G. Limon
February 7, 1973 – July 15, 1991
Archbishop Oscar V. Cruz
July 15, 1991 – September 8, 2009