The Prelature of Isabela de Basilan is a Roman Catholic territorial prelature in the Philippines, a suffragan of the Archdiocese of Zamboanga. Created on October 12, 1963, and erected on February 15, 1964, the prelature comprises the entire civil province of Basilan and the cities of Isabela and Lamitan.
Its titular is Sta. Isabel de Portugal and its secondary patroness is the Immaculate Heart of Mary.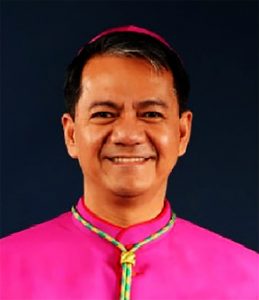 At present, the prelature's Bishop-Prelate is Most Reverend Leo M. Dalmao, CMF, DD, a native from Tagbilaran City in Bohol, Philippines born on December 1, 1969. He was ordained a priest of Congregation of Missionaries, Sons of the Immaculate Heart of the Blessed Virgin Mary or CMF on May 31, 1997.  He was appointed on March 8, 2019, and was ordained and installed as the prelature's fourth bishop on May 24, 2019.
List of the Past Bishops of the Prelature of Isabela de Basilan:
Most Rev. Jose Ma. Querexeta, CMF, DD
Consecrated as the First Bishop of the Prelature on February 15, 1964
Most Rev. Romulo T. Dela Cruz, DD
Consecrated as the Second Bishop of the Prelature on February 16, 1989
Most Rev. Martin S. Jumoad, DD
Consecrated as the Third Bishop of the Prelature on January 10, 2002